Byrna HD Pepper Kit Personal Defense Launcher
*Note: please read information on shipping restrictions in the description below before purchasing - we cannot ship this product to customers in select states and municipalities.*
The Byrna HD Pepper Kit comes in a protective, zippered carrying case with everything you need to get started:
One (1) Byrna HD Launcher
Two (2) 5-Round Magazines
Two (2) Byrna 8-Gram CO2 Cartridges
One (1) 5-Round Tube of Byrna HD Pepper (fka Jingleballs) Projectiles 
One (1) 5-Round Tube of Byrna HD Kinetic Projectiles
One (1) 5-Round Tube of Byrna HD Inert Projectiles
One (1) #byrnanation Medallion
Physical symptoms of the pepper irritants often result in disorientation and agitation, which can lead to a state of fear, anxiety, and panic in would-be attackers. Upon impact the projectiles burst, creating a cloud of the pepper-based irritant that rapidly disperses into the air to quickly incapacitate an attacker. Within seconds, the saturation area extends in all directions around the point of impact.
Physical effects:
Burning in throat
Wheezing
Gasping
Dry cough
Shortness of breath
Gagging
Inability to breath
Increase your confidence while keeping yourself and your family safe.
Spec Sheet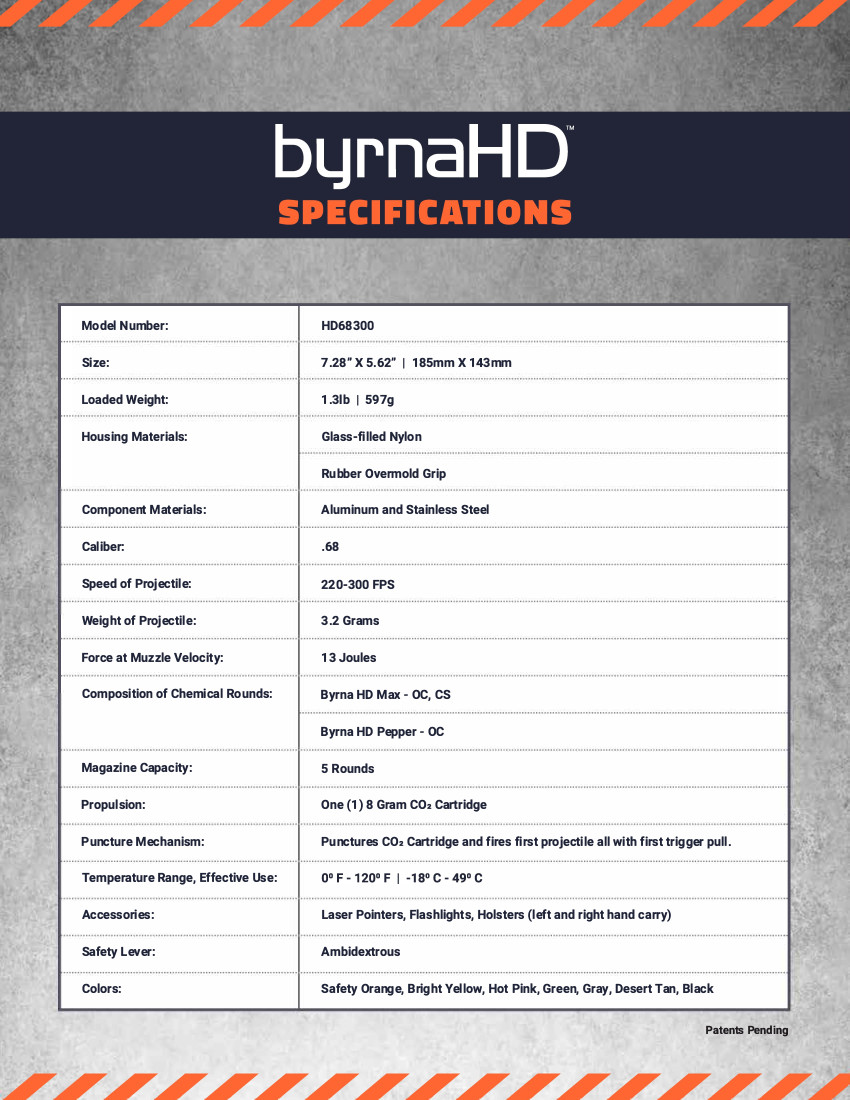 Shipping Restrictions
In the US there are restrictions that vary by state and municipality on where the Byrna HD and Byrna HD Pepper projectiles can be carried or used, markings that may be required, and other issues. Each customer is responsible for checking the law in his or her own state and municipality.
Read More